Traveling as a vegetarian: Prague
May 01, 2018
Prague is rightfully known as a meat and potatoes food culture, so I was curious about traveling there as a vegetarian. If you are a vegetarian or vegan, do not for an instant hesitate to visit the beautiful city! Friends that I met on the trip were all about the sausages, the duck, and chicken dishes. (Pictured below: Their meal, next to my fantastic grilled veggie salad with bread and fresh parmesan). I will easily admit, it all looked and smelled delicious! I enjoyed every bite of mine along with my fresh mint tea. I was also not missing out on the local beers (every meal guys), and because I am in no way a beer connoisseur, I took the suggestions of the staff at most restaurants and was never disappointed. It's generally the most affordable option on the menu, so relax and have a drink!
If you want a veggie burger, there is an incredible one in an admittedly touristy part of town. Lunch in a 12th century bar, local beer, and a veggie burger that I sometimes consider flying back there for, I don't care that it was not quite off the beaten path. The White Horse (Bílý Koníček) in Old Old Town Square is well worth your time. (Someday, I'll post the story of my romantic comedy moment in that bar.)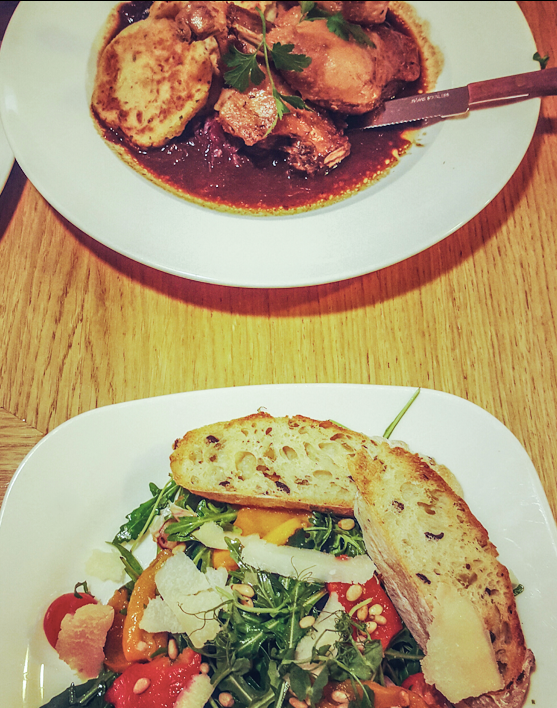 As with any city I visit, I checked out the local grocery and made most of my fruit breakfasts from fresh items from the store. My apartment in the city was conveniently located near a Tesco which was my go to for affordable food when eating at home.
Have a beer, drink some absinth and enjoy the city because Prague is 100% veggie friendly!
Up next! Exploring a new city as a home base!
Tamea Travels